Last summer I attended "Quilt Wyoming" in Casper. One of the classes I took was taught by Kathleen Moorhead Johnson of August Wind Quilt Designs.
I only completed one block in class. As I was digging through the UFO bin, I came across my Prairie Windmill quilt blocks. All the sub-units were made, so I decided this would be perfect for my April UFO project.
The colors in the photo of
this post
are more true. Doesn't it look like Neapolitan ice cream? My favorite when I was growing up!
Here's a shot with the border fabric:
I'm
planning
to have this top pieced by Friday for TGIFF.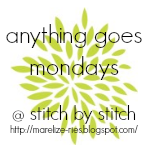 Linking up to Anything Goes Mondays at
Stitch by Stitch.
And the Giveaway
While at Quilt Wyoming, I bought an extra copy of the pattern for a giveaway. Now that I've (mostly) finished my quilt, I can tell you Kathleen is an excellent pattern-writer. Here is a photo of her Prairie Windmill quilt from her website,
August Wind Quilt Designs
.
Kathy points out, "
The
trick is choosing two different colorways and choosing
fabrics from light to dark."
If you'd like this pattern to sew for yourself, please comment on this post and tell me what two colorways you would choose to make "Prairie Windmill."
Giveaway ends Saturday, April 26 at noon MDT.
International entries welcome!
If you're a no-reply commenter, please include contact information. If I can't find contact information for the winner, I'll choose a different winner.
Tomorrow is Earth Day. I have a new tutorial for an easy-to-make market bag, come back and see!
From the desk of your