Not one, not two, but three finishes today!
First up, a quilt that was pieced ages ago. I made the first quilt of Japanese Taupe fabrics for the high school graduation gift for the last of the 4-H'ers from my boys' club. I had enough fabric left over to make a second quilt just like the first. It sat in the "to-be-quilted" shelf for almost three years. Then I decided the son of my friend, Lori, should have a quilt, even though I didn't know him when he graduated high school.
I took the quilt to my long-armer, Connie of
Ponderosa Patchworks
late this Spring. When the Black Forest fire burned her house, Connie rescued this quilt along with all her other customer quilts. Mine was the first customer quilt she quilted when she opened her new studio. Since Lori's house was also threatened by the Waldo Canyon fire two years ago, I think it's appropriate that Connie quilted this one.
Stuart will be home from college for Thanksgiving next week. I hope he likes the quilt!
I've decided my quilt #48 for 2013, "Full Moon" shall remain borderless. I do like the just-five "moons" rather than one in each block.
Here
is a link to my post with details of this quilt.
I also calculated the sashing strips for my "
Morning Joe
" and finished it. Here's the image from the pattern cover:
And here is my finished "Morning Joe."
My blocks are 16" square, the table runner will finish at 64" X 24" -- and I know just the niece who will receive this as a hostess gift on my next trip to Idaho!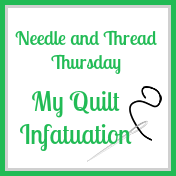 The first "real snowfall" of the season happened yesterday. I can't wait until the clouds blow away so we can see Pikes Peak in all its glory!
From the desk of your