Oh, my, only one week left in June! I'd better get to work on my June UFO.
Conveniently, this project also uses up a pile of my 3.5" scraps.
The quilt is "Country Sunshine," from a 2002 edition of "Quilting Ideas" magazine. It requires 20 blocks, and 104 half-square triangles for the border. Thank you, Bonnie Hunter, for the idea to use the cut-offs from magic corners to make
bonus HSTs
. I already have more than half of them made!
Linking up to Kim's Big Quilting Adventure,
Scrap Basket Sunday
.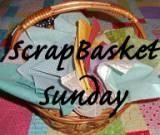 I'm missing out on Brown Bag Surprise today to finish up the "Heart of Colorado Shop Hop." Come back next Saturday for a full report, on Saturday Stash!
From the desk of your