When one is retired and doesn't have to be somewhere everyday, one wakes up in the morning and thinks, "OK, today is Sunday, airport run." Otherwise, one is surprised when DH says "you're taking me to the airport, aren't you?" I love only leaving the place twice a week!
I'm also loving reading all the links on Kim's "
Scrap Basket Sunday
."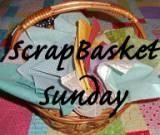 Even more, I'm loving playing in my
own
scrap basket! Karen at Anna Lena Land sponsors a "block a day" challenge each season. The idea is, even if you can't make a quilt each week, you can make one block a day!
The Spring Block a Day is the
Chevron block
. Can't get much easier than this, and I love the results! I'm doing mine in a rainbow arrangement, using all polka dots:
There will be 90 blocks, so I need nine rows of 10 each. The Roy G Biv rainbow has only seven colors, so I'll add brown, black and grey.
Here are my other "Block a Day" quilts.
Bowtie
:
Hourglass
:
Flying in Squares
(Flying Geese):
Tessellating Crosses
:
Streaks of Lightning
:
And my favorite quilt of all time, Summer Strings:
Wow! I can't believe how many of Karen's Block a Day quilts I've made! That one block per day thing really works -- thanks, Karen!
From the desk of your