You've probably heard that
Sinta
and
Sherri
are hosting "Vintage Schnibbles" this year. The first Schnibbles quilt is "Hat Trick."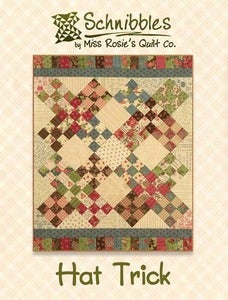 This is one of the first "Schnibbles" patterns, so if you don't have it in your collection you can download the PDF version from Miss Rosie's Quilt Co.
here
.
When I think of "vintage," I instantly think "30s reproduction fabrics." I have quite a collection of 30s repros -- nearly 20 years ago when the 30s reproductions first came out, I bought a fat quarter of each fabric. Soon the number of prints was overwhelming, so I had to back off. But I still have two bins of 30s fabrics!
What fun to dig through the bins and find light-and-dark prints to make the 20 little nine-patches. My problem is the setting squares. Should I use light prints?
Or plain muslin?
I only have ten blocks complete, so they will probably be rearranged in the final quilt.
What do you think? Print or plain setting squares and triangles?
From the desk of your