Hooray! Both the quilts I'm working on this weekend are from my scrap basket!
First up, this month's Fat Quarter Fun class at
Ruth's Stitchery
.
The pattern is "Currents" by Sharon Winter, published by Brookshier Design Studio. If your LQS doesn't have this pattern, you can call
Ruth's Stitchery
, or get it from
Quilters Warehouse
. Sharon says this pattern was "inspired by 16th century tilework in a Portuguese palace. It was fun to see how it worked up in various colors, I used
purple
! Because I have a ton of purple scraps I've collected for my next Scrap Squad quilt.
I only made one block, because I want to save this project for next month's quilt retreat.
Another scrappy project is the "Vintage Schnibbles" at
Pink Pincushion
and
A Quilting Life
. I didn't have a charm pack that really grabbed me for this little quilt, so I went to my enormous collection of 5" square scraps and decided to use 30s repros for "Hat Trick."
I have the squares cut for the 9-patches. I think I'll use muslin for the setting squares and setting triangles.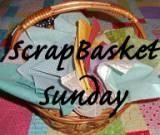 We're expecting a major snowstorm tomorrow night here in Colorado, so I should get a lot of sewing done in the next few days!
From the desk of your