Only five more days to comment for a chance to win all 12 of Sassafras Lane's patterns in the Grow Your Blog giveaway. Go

here

to comment.
When my mother moved into the nursing home, I was lucky enough to receive her Singer 401 slant needle sewing machine. It's the machine on which she sewed my clothes from birth through my wedding dress, so it's precious to me.
Unfortunately, she had placed houseplants on the cabinet top and water had leaked onto it, marring the finish. I should refinish it, and I will, eventually. But in the meanwhile, I wanted to make a quilted table topper to cover it.
I saw a design for placemats that used 2.5" squares. And boy howdy, I have
lots
of 2.5" squares! So today I started sewing them together with white 2.5" by 1.5" rectangles. I sewed the rows together with 1.5" by 26" white strips and here is the result:
If I add one more row of scrappy squares, it won't need a border. This design is so much fun, I may decide to make it my next "leaders and enders" project and make an entire quilt!
Linking up to Scrap Basket Sunday at Kim's Big Quilting Adventure.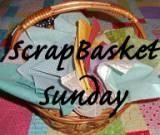 I (finally!) have something new on the design wall for tomorrow. Hope you'll come back to see!
From the desk of your