Today's "Sunday is for Scraps" quilt is really two -- baby quilts. I saw a great You-Tube video from Missouri Star Quilting Company and was inspired to quick! make some baby quilts!
Jenny calls it the "Falling Charms" quilt. I used scraps cut into 5" squares and Kona Cotton Snow for the background. I didn't really plan how many blocks to makes, just sewed until I lost interest and made them into blocks. It turned out I made 70 blocks, enough for two baby-sized quilts. I thought about shopping for a border print, but I think they will turn out the right size without a border. Plus, saving money for the trip to Japan, you know!
Click
here
for the link to Jenny's tutorial video. I'm sorry my BFF Holly is leaving Ohio, because I won't have a reason to visit the Missouri Star Quilt Co. when I drive to see her -- she'll be in Texas now!
One quilt will go to an IBMer who is having a baby in September, one is for the daughter of a Sailor on the USS George Washington.
Linking up to Scrap Basket Sunday at
Kim's Big Quilting Adventure
.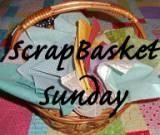 Don't you just love to make baby quilts? They are so fast, and so fun!
From the desk of your