Almost half of my "Farmer's Wife" quilt is sashed. Watching it come together is addictive!
One row is missing, it's at the sewing machine waiting for sashing.
When I get all the rows sashed, I will have to decide on a fabric for the setting triangles. The cornerstones are a pale, sage green. So far the vote is for the setting triangles to be the same fabric, but I'll post some choices and ask for input.
Remember the gorgeous yarn My Little Sailor sent for Mother's Day? Here is my current manicure, which compliments the Shawlcowl perfectly!
Linking up to Anything Goes Monday at
Stitch by Stitch.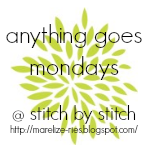 As well as Design Wall Monday at
Patchwork Times
.
Have you commented yet for a chance to win this bundle of Kona cottons? Go to Friday's post to comment.
From the desk of your