Part 2, Bonnie Hunter's Celtic Solstice Mystery.
Whew! 100 chevrons that finish at 3"! Glad I had a beautiful view of Pikes Peak covered with snow today, because I stitched, trimmed, pressed and squared-up for five hours!
I love putting my my finished mystery steps on the design wall to admire:
Tomorrow I must finish this table runner! I'm not happy with the way the border print looks, but I don't have time to experiment with something different. Maybe it will look better when the other two sides are sewn on!?!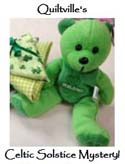 The temperature in Colorado Springs is supposed to get above freezing tomorrow -- here's hoping!
From the desk of your