Karen Snyder blogs at
Anna Lena Land
-- you've seen links to her blog for the seasonal Block-a-Day challenge. Look what she came up with this week!
It's the fastest, easiest way to make scrappy four patches you've ever seen!
Because Karen has a whole tutorial on this method, I'm not going to repeat her instructions. Go
here
to see Karen's tutorial on "Magic Four Patches." I just had to try it out for myself. Here are my step-by-step photos, but again, to see the complete tutorial, you have to visit
Anna Lena Land
! Be sure to tell her Aunt Marti says "hi!"
By any chance, do you remember this quilt?
It was the
May "Vintage Schnibbles"
project, Gentle Art by Miss Rosie's Quilt Co. The fabric is a charm pack of "Ladies Sewing Club" from Moda. This little quilt only required half a charm pack, so I have a pile of leftover 5" squares. Just right for Karen's new technique!
Step 1:
Detail of Step 1:
Step 2:
Step 3:
Step 4:
Step 5 (this is the magic part!):
Step 6:
I think I'll use this technique to add a scrappy four-patch border to my May Schnibbles project!
You'll have to go
here
for the full instructions. While you're there, take a look around -- Anna Lena Land is one of my favorite places!
Linking up to another favorite,
Scrap Basket Sunday
.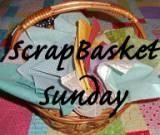 And speaking of links, have you gone to this post to sign up for my Ho Ho Ho Blog Hop giveaway?
From the desk of your