When I was procrastinating on my Scrap Squad quilt, I spent an afternoon re-organizing the fabric collection. I came across this packet of 6.5" squares from Great American Quilts:
I'm not sure what I had in mind when I bought them, but somehow this morning "Disappearing Nine Patch" popped into my head. This is one of the easiest scraps quilts ever!
The technique I used requires one solid (in this case, white) square and eight print squares. Arrange in a nine patch with the white square in the center. Sew squares together and press. I pressed away from the white square.
Cut across the center vertically, then horizontally. Because I used 6.5" squares, I lined up the 3" line on my 24" ruler to cut. This is a time when it's handy to be able to get to both sides of your cutting table -- I just moved myself around the corner to make the horizontal cut:
Et voila! four 9" blocks:
Now the fun part -- experimenting with layouts! I made three nine patches, so I have 12 blocks to play with. An excellent size for a baby quilt.
First, white square in upper left corner of every block:
I would have to add a sashing strip to the right side for this layout, or it would bother me that there are no white squares on the right-hand side.
Maybe one row with the white square on the upper right, then one row with the white square in the upper left?
This would be a pain because of all the matching corners -- and this is supposed to be an
easy
quilt!
How about upper-right/lower-left/upper-right? Then reverse for the next row: At least it isn't off-center.
I was trying to make a zig-zag design when I lost interest!
There are dozens of Disappearing Nine Patch variations on Pinterest.
Here
is a link to my Pinterest page for scrappy quilts with a few of my favorites.
Linking up to Kim's Big Quilting Adventure for "
Scrap Basket Sunday
."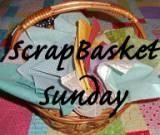 Yesterday, we broke our record of 13 days in a row with rain -- so I'm trying to mow the lawn before it rains again!
In between mowing sessions, I have been whipping out BOM Rehab blocks. Come back tomorrow to see what's on the design wall!
From the desk of your