The third bed-sized quilt I ever made was "Jacob's Ladder" for My Little Sailor, Jacob. Of course, he was only three at the time, a long way from becoming a US Navy Sailor! The blues are fading, and I bound it with a single-fold binding, which is starting to fray. But it's precious to me.
Today's Scrap Basket Sunday block is a scrappy variation on the Jacob's Ladder block.
To make each block, you will need:
(4) 5" squares white background
(4) 5" squares bright print
(6) 2.5" squares white background
(6) 2.5" squares bright print
(2) 4.5" squares bright print
Not everyone has drawers full of 2.5" squares, but if you do, this is a good way to put them to use!
Also, if you utilize Bonnie Hunter's "
Leaders and Enders
" method, this is a good use for the basket of four patches you've been piecing!
To make the half-square triangles, take one white and one bright 5" square (it's OK to use larger squares, you'll be squaring them up). I use Deb Tucker's "
Quilter's Magic Wand
" to mark the stitching lines diagonally across the white square:
Marking with a "Frixion" pen makes a nice dark line. And it disappears when it is pressed with a hot iron! Be warned, though -- the marking will reappear in freezing temperatures, so do not use this pen to mark quilting lines on your finished quilt!
Stitch on each line, cut between the lines, and press toward the bright fabric. Then square up to 4.5" using your favorite method -- mine is the Bloc Loc ruler (tutorial
here
).
The reason I listed four white and four bright 5" squares was so the block would have four unique HSTs. Of course, you can make your block with all four HSTs alike -- after all, you are the boss of your quilt!
Be careful to lay out the block with the four-patch pieces forming the "ladder." Add the bright 4.5" squares and stitch it all together. The finished size should be 12.5" raw-edge-to-raw-edge.
Linking up to Scrap Basket Sunday at
Kim's Big Quilting Adventure
.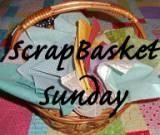 Wouldn't this make a great "Quilt Block a Day" project? Be sure to come back tomorrow to see who won the 100 Blocks magazine giveaway!
From the desk of your