Ah, ha! I'm not the only quilter who dedicates Sundays to scrapping! Kim at "
Kim's Big Quilting Adventure
" has launched a "Sunday is for Scraps" link-up.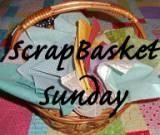 She's calling it "Scrap Basket Sunday," and invites you all to dig through your scraps and make a few "scrappy" blocks each week. Kim is making the quilt on the cover of Kim Diehl's book,
Simple Graces
:
I thumbed through Kim Bracket's newest book,
Scrap Basket Beauties
:
Then I remembered a box labeled "Apple Core." It's been sitting on a high shelf in my sewing room for years, really,
years
. I took it down and discovered I had cut a pile of apple core pieces using Shar Jorgenson's
Apple Core template
:
(By the way, if you're interested, it's on sale right now!)
Here is my stack of apple cores:
And here is the strip of sewn-together cores:
Thanks, Kim, for the motivation to work on this 10+-year-old scrapple project! Reader, if you'd like to play along with Kim's "Scrap Basket Sunday," go
here
to share your link and see what others are making.
I have a special foot for my machine that makes sewing the curved seams of the apple cores a snap. Come back Tuesday for my Tuesday Tool post featuring the Curve Master presser foot.
And remember, this is the last day to submit your March UFO for tomorrow's 13 in 2013 UFO Parade!
From the desk of your