Another rainy day in Colorado. The floodwaters are rising, but I am thankful my house is at the top of a hill. Sadly, one of my new windows is leaking -- luckily, I wanted to take a photo on the coffee table, and heard the "drip drip drip" of the leak!
Here is the project I was photographing:
It's a sailboat mug rug for My Little Sailor. There was an umbrella design in the pattern -- should have made that one! The pattern is "Last Minute Mug Mat Extravaganza" from
Doodle Time Designs
by Faith Wellman. Mug rugs are such a perfect "scrappy project."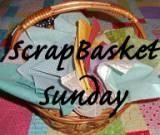 Linking up (at the last minute!) to Kim's "
Scrap Basket Sunday
."
I have a new quilt on the design wall -- come back tomorrow for Design Wall Monday!
From the desk of your