Oh! My! It's already June 10, and look at my "To-Do" list for June:
Notice that not one thing has been crossed off? I don't know what I did with the first 10 days of June, but it apparently wasn't "work on The List!"
I was lucky enough to be invited to spend the weekend at a friends "cabin" this weekend. It is such a beautiful, quiet place -- if you don't mind keeping an eye out for bears and mountain lions! Worrying about the wildlife makes it easy to stay inside and make progress on sewing, though.
I got a good start on the August Jelly Roll Party sample. The pattern is "Ring Toss" by
Cluck, Cluck Sew
. The jelly roll is "Reunion," from my favorite designers, "Sweetwater."
Somehow I mis-counted my jelly roll strips, so I have to cut 10 more blocks. Here's what the finished quilt should look like: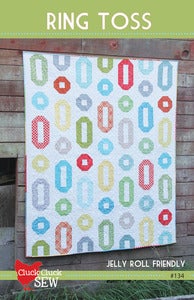 The air conditioner dudes are coming tomorrow to turn on our A/C. The high today was 97, so I will welcome them with open arms!
From the desk of your