This morning it's 41 degrees (that's Fahrenheit) and windy windy windy. I am SO not going for a walk this morning, looks like I'll have to dust off the elliptical machine!
Design Wall
There's a new kid in town today. OK, not really new. And not really a kid. But there's something new on the design wall:
It's 24 blocks for my "Toes in the Sand." I started it last year with the BOM from
Quilt Asylum
. The fabric is Tula Pink's "Saltwater." I love this fabric so much, I accidentally bought the fat quarter bundle also. In a few years, it might make its way to my De-Stash offer!
Here are the blocks with the background fabrics. It's impossible to photograph this fabric, but it's a very pale lemon-green.
Even Tula Pink's website doesn't really show the true color, but you can see the design in this photo from her website,
ihearattulapink
.
I was lucky to be able to cut all the background pieces from this same fabric, even though the kit included a different fabric for the outside half-triangle setting pieces. I think it looks like the blocks are floating on the sand!
If the stars align and My Little Sailor comes home on leave in September, and if my friend's beach house is available, and if it doesn't snow (hey, that's a real possibility in September!): this quilt will be a hostess gift for the beach house!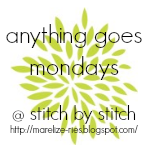 Destash Report
I was amazed and pleased that more than one person was interested in my Vin du Jour destash! It will be on its way to the first taker as soon as the wind dies down.
And vaf, I'm sorry but I can't take a check. Not that I worry your check isn't good, it's just that I don't do the bank thing!
I have more, so I'm thinking each Sunday until I empty the "this needs to go" bin, I'll offer another destash bundle.
Since the wind is blowing and it's cold, I'm going to hide out in the upstairs sewing room and work on A Quilt Block a Day. As of Saturday, we should have 80 blocks finished. Oh, I have them finished, all right. And they're scattered all over the sewing room!
That's what happens when the window is left open and a severe thunderstorm blows through Colorado!
I have a new product to test for the Sew Steady extension table. Come back tomorrow to see if it's worth the purchase price!
From the desk of your