How is your Block a Day project coming along? Today you should be making the 11th block!
I'm making my BaD blocks as my "leaders and enders" this weekend. Bonnie Hunter coined the term "
Leaders and Enders
" for this method.
Many quilters sew onto a scrap of fabric at the end of a row of chain piecing. I've heard it called a "peanut" or the "two quilts at once" method. Rather than just cutting your thread, or sewing onto a scrap of fabric, keep a stack of quilt squares next to your machine and stitch two together at the end of each seam on your main quilt. It's amazing how fast a "block a day" is made using Bonnie's clever idea!
In fact, Bonnie has several books that celebrate her method. Here is my favorite: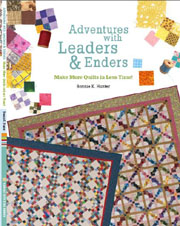 If your LQS doesn't stock Bonnie's books, you can order a copy
here
.
I'm keeping up with my daily blocks, here are the 11 I've finished so far:
Not the best photo, the blocks are hanging on the very corner of my design wall. I marked my calendar so I know how many I should have done in increments of 10 -- April 8th is the day for the 20th block.
I can't wait to see what everyone makes BaD!
From the desk of your