I realized this morning I haven't shared my birthday prezzies from last month. Quite a haul, I assure you!
First, a lovely surprise from one of my blog followers, Nurse Jessi. I was so surprised and thrilled when I opened a package from an unknown address. Look what was inside:
An original "
i make UgLy Bags
" by itsnursejessi. Notice the wine bottle on this side? Does she know me, or what?
I immediately loaded it up with my current Hats for Sailors project, and it's been by my side ever since!
Inside was this charming collection of shot cottons. I have been having so much fun stacking and re-stacking them, I may never use them! Jessi, you are the best!
Two of my Colorado buddies gave me an etsy gift card. I taped it above my computer and within two weeks I had purchased:
and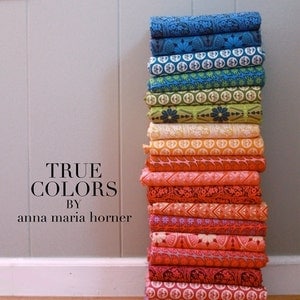 Then Craftsy had a big sale and I couldn't resist this:
Those green fabrics on the left-hand side are from Tula Pink's "Saltwater" collection. Since this is my 400th post, as well as my birthday, I think I should give those away.
There are nine fat quarters:
And also a copy of Tula's book, Quilts from the House of Tula Pink.
Comment on this post, and tell me your favorite birthday gift you ever received. Next Saturday, I'll let the random number generator choose a winner to receive the fat quarters and the book.
Giveaway ends at midnight MDT on Friday, November 29.
International entries welcome!
If you're a no-reply commenter, please be sure to include contact information.
Thank you to all 52 Quilts followers!
From the desk of your