It's been awhile since I've dug through the scrap boxes on a Sunday.
Thanks to Bonnie Hunter of Quiltville, I spent an enjoyable afternoon digging through my scraps today looking for fabrics for Bonnie's next mystery quilt! Each autumn, Bonnie hosts a Mystery QAL on her blog. I swore to myself I wouldn't start this year's scrappy mystery, as I have yet to complete last year's "Easy Street."
That was fine, until I saw the colors Bonnie has selected for this year! All my favorites! Orange, yellow, green and blue. She's calling the quilt "
Celtic Solstice
." Here are my fabrics for this project:
I think I was the first person at my local Lowe's picking through the Olympic paint chips. Here is Bonnie's photo of the paint chips:
Not surprisingly, I had enough of the blues and greens that I didn't need to buy any extra.
But I was short on orange, and I'm still not sure these are the best match to the color cards:
Bonnie recommends "shirtings" for the background. Hooray, I will have to shop for more of those!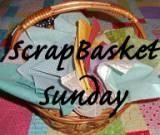 The first clue for Celtic Solstice goes "live" on Friday, November 29. Good thing I don't shop that day, because I'll be busy cutting and sewing my "Celtic Solstice!"
From the desk of your