I'm sure you've heard of the Quilts of Valor Foundation.
The mission of the Quilts of Valor Foundation is to cover all combat service members and veterans touched by war with comforting and healing Quilts of Valor.
The Wyoming State Quilt Guild, along with many, many other guilds across the country, is making blocks for Quilts of Valor. Today, my Sunday Scraps project is the block for the 10th Anniversary of the Quilts of Valor. The link with instructions is
here
,
The block requires fabrics in red, white or cream, and blue. The colors may be used in any position. I am listing the colors in the positions I used for my blocks.
Cutting
4 - 2.5" squares blue
2 - 3" squares blue
2 - 3" squares cream
4 - 2.5" X 4.5" rectangles red
Assembly
Using the cream and blue 3" squares, make four 2.5" half square triangles.
Square up the HSTs to measure 2.5." If you have a
Bloc Loc
ruler, this is the time to use it!
Stitch the HST to the blue 2.5" squares.
Stitch the HST/square unit to the red 2.5" X 4.5" rectangle.
Arrange as shown and complete stitching.
Do not trim your blocks; assembled blocks should measure 8.5."
Here are my finished blocks:
The instructions request that blocks be signed with your first name and state. You may mail your blocks to Karen Demaree, Quilts of Valor Director, PO Box 628 Platteville, WI 53818.
Linking up to
Scrap Basket Sunday
at Kim's Big Quilting Adventure.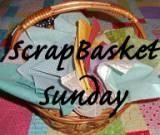 Or if you'd like, send your blocks to me and I'll take them to Quilt Wyoming with mine in July.
From the desk of your